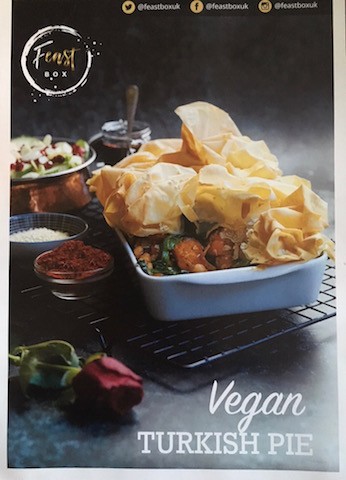 Even though I live in an area where it's possible to source special ingredients like spices, I still find that I've missed something off of my shopping list. Step up Feast Box which delivers almost everything you need to cook up an amazing meal (they assume you have things like olive oil in your store cupboard).
To try it out I was given the choice of one of three meals for two and selected the Vegan Turkish Pie. The Feast Box arrived (nearly everything is recyclable). The finished meal on the recipe card looked amazing as you can see and I was a little worried that I wouldn't achieve the filo pastry topping but I need not have worried.
The step-by-step recipe is easy to follow although I would suggest including the gas settings for the oven as well. The filo pastry topping was simple to achieve but looks dramatic.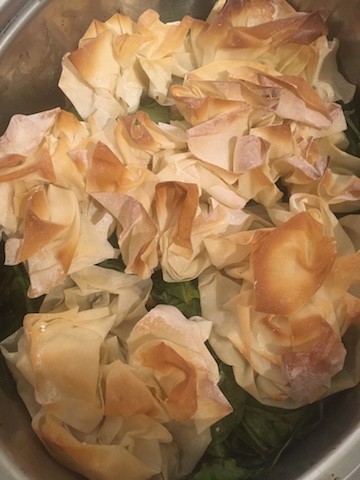 I was pleased with my finished meal which came with the ingredients for a "middle eastern jewelled salad". Sadly the pomegranate in the delivery box was inedible. You would not have know this from the look of the fruit outside but inside the seeds were black. Of course this could happen when buying food oneself.
Having followed the recipe to the letter, I did find the pie base wasn't as hot as it might have been and I wouldn't have left it in longer as the filo pastry would have suffered. If I were cooking this again I would make sure the base was piping hot before it went into the oven.
My guest and I thoroughly enjoyed the meal and there would have been enough for three. A great way to enlarge your repertoire of special meals.
PWT rating: ♥♥♥♥♥
Find out more about Feast Box
You can sign up for a weekly or fortnightly meal delivery but you can cancel a delivery with four days notice. You can select your option or have the chefs choose for your and you are able to stipulate no red meat,vegetarian, vegan, chefs choice and no fish. Meals are either for two or four diners.