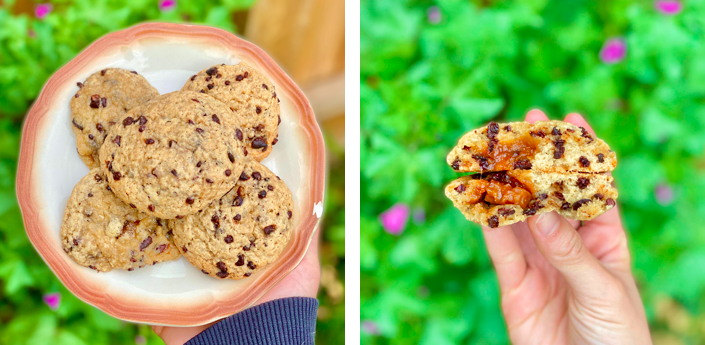 Perfect for Halloween, these gloriously oozing Salted Caramel Stuffed Cookies are the ideal trick or treat snack!
Created in partnership with @feedingthegram and made with low sugar YaconViva Cacao Nibs and Yacon Syrup, these cookies are the perfect alternative to sweets this year.
To make the Salted Caramel Sauce:
4 tbsp YaconViva Yacon Syrup
3 tbsp Coconut oil
2 tbsp Coconut sugar
2 tbsp Peanut butter
Large pinch of sea salt
Method
1. Place all the ingredients into a pan over a medium-low heat and stir for around 5 to 8 minutes until melted down in a smooth sauce.
2. Pour into a container and freeze overnight.
To make the Chocolate Chip Cookies
140g plain flour
½ tsp baking powder
Pinch of salt
120ml YaconViva Yacon Syrup
200g YaconViva Cacao Nibs
4tbsp Plantbased milk of your preference
2 tbsp Oil
1 tsp Vanilla extract
Method to make five cookies
1. Combine all of the dry ingredients in a large bowl.
2. In a separate bowl, mix all of the wet ingredients together.
3. Combine both mixtures and mix until a dough like consistency is formed.
4. Once it's dough like, form it into a large ball and keep in the fridge for a one to two hours until the dough is cold.
Method to make the Salted Caramel Stuffed Cookies
1. Preheat oven to 160c.
2. Remove the salted caramel from the freezer and break into small pieces.
3. Break off a chunk of cool cookie dough and make a well. Place the caramel piece in the middle and cover over with the dough.
4. Repeat until all the dough and caramel is used up.
5. Bake in the oven for 14 minutes on a greased tray.
6. Take out of the oven and allow to cool for 40 minutes.
7. Transfer to a serving plate and enjoy!
About YaconViva:
YaconViva! Organic Yacon Syrup - Nature's Healthiest Sweetener (220g)
and YaconViva! Organic Cacao Nibs Sweetened with Yacon (300g)
Yacon sweetened Cacao Nibs are available now from Amazon UK, good health stores and from yaconviva.co.uk
·