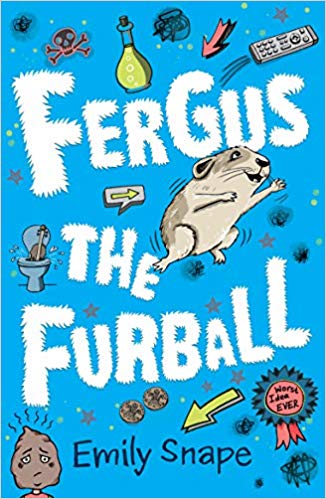 Harriet has been reading Fergus The Furball by Emily Snape as her 'home reading" for school. She's coming up for ten and can appreciate the classroom antics and the awfulness of having turned a brother into a guinea pig!
When Daniel's parents go to Scotland instead of celebrating his tenth birthday, he's not impressed. What's more, they've left his dipsy aunt Tink in charge, and given him a plant as his present…instead of the pet he'd begged for! So can you really blame him for wishing he had a guinea pig, instead of his stupid show-off brother? Or for the fact that his wish actually came true… But with nutty bullies, crazy chefs and mad scientists about, the race is on for Daniel to somehow undo the magic before his parents find out…(and save his brother of course. Even if he is eating his own poo!).
Emily Snape's illustrations are a real bonus in this novel and Harriet has loved Daniel's antics. Text is underlined and sometimes in a bigger type for emphasis. What is encouraging is that difficult words/terms are often explained by another character – often Eugenie a new classmate who teams up with Daniel and his friend Ethan.
My only – minor – criticism is the overuse of adverbs which sometimes gets in the way of the narrative.
Fergus The Furball is excellent for prompting discussions about family relationships, friendships and characters children may run into.
PWT rating: ♥♥♥♥♥
Fergus the Furball
is published by Raven Books and is available from Amazon and bookshops.