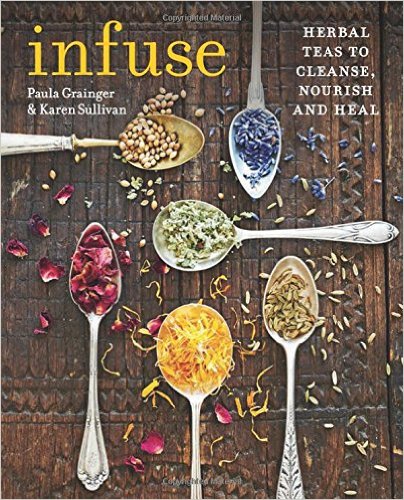 Here are my top five infusions for parents and children.
To make, simply place the herbs in a teapot, infuser ball or measuring jug, and pour over 300ml of nearly-boiling water. Leave to steep for five to ten minutes, then strain and enjoy. Each blend makes one large mug of tea.
If you're giving tea to your child, you can stir in a little honey while the tea is still hot and allow it to cool to a suitable temperature before serving. Add a few ice cubes if you'd like to speed the cooling process.
I'm A Mum
An essential blend for the early days of motherhood with fennel and fenugreek to increase milk production, mineral-rich nettle and uterus-toning raspberry leaf. An added benefit is that fennel is known to travel through breastmilk to calm a baby's colicky tummy.
2 tsp fennel seeds
1 tsp fenugreek seeds
1 tsp dried raspberry leaf
1 tsp dried nettle leaves
½ tsp dried peppermint
Fussy, Feverish Kids Tea
If your child is over three, otherwise healthy and does not have a rash, this infusion can help to gently break a fever as it soothes and relaxes.
1 tsp dried catnip leaf
1 tsp dried chamomile flowers
½ tsp dried linden flowers
½ tsp peppermint leaves
½ tsp dried chopped liquorice root
½-1 tsp Manuka honey
Super-Soothing Cough Tea
Use this tea as it is to calm a cough or add the larger quantity of honey to create a cough syrup, which will keep in the fridge for several days.
1 tsp dried hyssop leaf
½ tsp dried sage leaf
1 tsp dried elecampane root
1 tsp dried mullein leaves
1 tsp dried chopped liquorice root
¼ tsp dried thyme leaves
2-5 tsps Manuka honey (optional)
Ah-Tea-Shoo!
Relieve symptoms of hayfever with this combination of herbs which have traditionally been used to reduce allergic symptoms.
1 tsp dried elderflower
1 tsp nettle leaf
1 tsp dried eyebright
½ tsp dried goldenrod
¼ tsp peppermint leaves
Stress Headache Tea
Next time the noisy soft play centre or children's party leaves you with a pounding head, why not leave the pills on the shelf and reach for a cup of this soothing stress-busting tea instead?
2 tsp chamomile flowers
2 tsp wood betony
½ tsp dried spearmint
¼ tsp dried rosemary
¼ tsp dried feverfew (optional)
All recipes taken from Infuse: Herbal teas to cleanse, nourish and heal
by Paula Grainger and Karen Sullivan
If you are pregnant, breastfeeding, on medication or if symptoms persist always check with a medical professional before taking herbs.