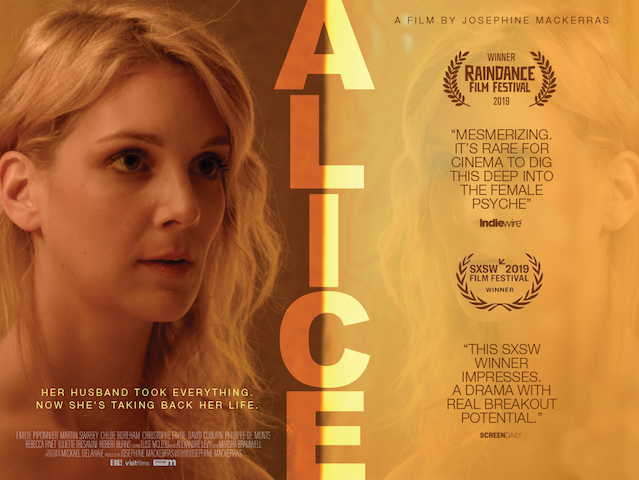 Eureka Entertainment release, ALICE, the debut feature film from multiple award-winning writer and director Josephine Mackerras, on selected digital platforms from 24 July 2020. From the start, I adored this film. It's in French with subtitles. I love French films and know the language enough to follow most but even if you don't the narrative will sweep you along.
The opening scenes of "too-good-to-be-true" domesticity – call me a cynic – herald a catastrophic breakdown of a relationship build on deceit. Your heart goes out to Alice (Emilie Piponnier) who had believed herself to be happily married. But her husband Francois (Martin Swabey) has spent all their money (actually her money given by her father) on prostitutes and they are now a year behind on their mortgage.
Her husband disappears and refuses to answer her calls. One of the most moving scenes is Alice phoning her mother late at night asking if she could return home with her son. Her mother's response is heartbreaking.
In a last-ditch bid to save her home and support herself and her child, Alice becomes a high-end escort, which challenges her perceptions of life and love. Experienced sex worker Lisa, (Chloé Boreham) takes Alice under her wings. The life of a sex worker is shown through a rose tinted lens. No sense of any danger and it's all rather clean and clinical but this is high end escorting. At times Alice is bitterly funny but always brutally honest, the film traces her journey to her own kind of freedom.
Writer-director Josephine Mackerras' powerful debut feature won the Grand Jury Award at last year's SXSW, and the 'Spirit of The Festival Award' at the 27th Raindance Film Festival, and stars Emilie Piponnier in a breakout performance.
PWT rating: ♥♥♥♥♥
Alice will be released on selected digital platforms (Curzon Home Cinema, The BFI Player, Amazon Prime Video) from 24 July 2020.