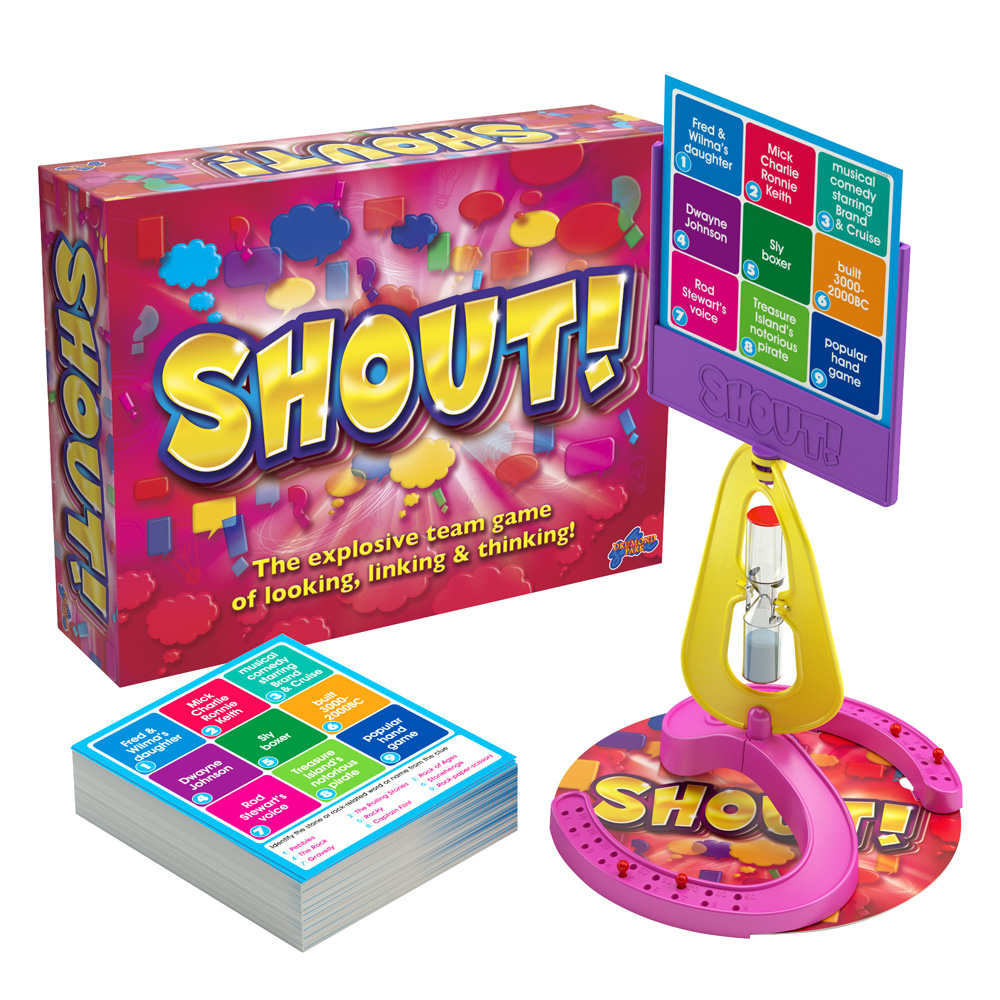 SHOUT! (rrp £29.99), the latest super-exciting family game from Drumond Park, is sure to provide plenty of uproarious fun for teams of family and friends aged around 12 to 99. There are 167 double-sided super-size cards in the box, each one featuring a set of nine Challenges on both sides (themed images, words, figures etc) – that's almost 3,000 challenges in all!
The game's centrepiece is the unique 60-second timer stand which displays the giant Challenge Cards to the "Answerers" – and enables the "Askers" to see the answers to each challenge. This clever game is bursting with quirky questions and cunning puzzles where you have to look, link and think – making connections between what you see on the Challenge card and what the answer might be. On the "Body Parts" card, for instance, a picture of Concorde translates to "nose", a photograph of Martin Luther King on the "Abba Songs" card identifies "I Have a Dream" and on the "Egg Things" card, the image of a stop watch will bring an "Egg Timer" to mind.
The gameplay is fast and furious, with everyone in the "Answering" team shouting out the answers to as many of the nine challenges on their given card as they can – while the "Askers" keep score. Everyone joins in the frenzied fun and the faster they answer, the better their team's score! This game has everyone in stitches – and yelling out for more!
For a chance of winning SHOUT!, just answer this simple question:
How many double-sided super-size Challenge cards are there?
This competition is now closed.
Please write SHOUT! in the subject line of your email and include your full postal address.
Winners will be the senders of the first four correct emails opened at random after 3.00pm on Saturday 29 November, 2014. Only one entry per household.
For stockists and to play games online, visit Drumond Park.