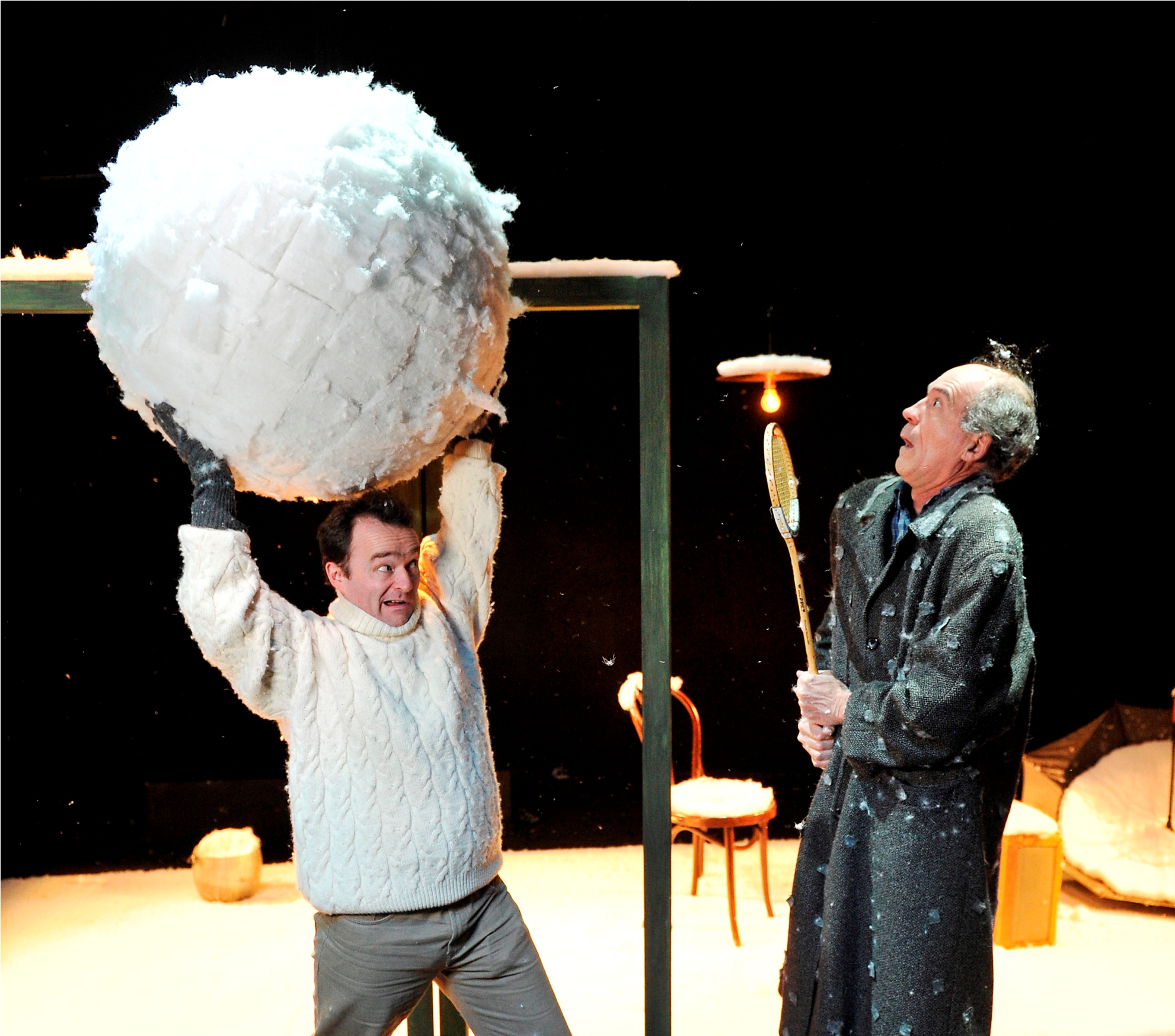 When Mr Green (Patrick Lynch) arrives back from his sun-filled holiday in Italy, he finds his front door open and an uninvited guest, Mr White (Carlo Rossi), has taken over his home and simply refuses to leave. Mr Green represents spring while Mr White, winter and snow.
What follows is a perfect show for children aged three to eight, incorporating the best of physical theatre with mime and slapstick and plenty of opportunity for the audience to shout, in the best pantomime tradition, "He's behind you!"
Harriet, sitting on my knee, adored Snow Play, was at first a bit overwhelmed by the huge and vociferous school party then joined in with the best of them. Snowballs were provided to throw on stage much to the delight of the older children. Sitting at the end of a row er were able to walk down to the stage for Harriet's snowball to have a chance of landing near Mr Green and Mr White.
Snow Play features two amazing actors (with the help of two women teachers from the audience who were such good sports): Cbeebies star Patrick Lynch alongside veteran Italian children's TV presenter Carlo Rossi, who also illustrated the book of Snow Play on sale afterwards.
Highly recommended.
PWT rating: ♥♥♥♥♥
Snow Play runs for one hour and performances are scheduled until until 11 January, 2013 at Bloomsbury Theatre, 15 Gordon Street, London WC1H 0AH

Ticket prices: £15 (adults), £10 (children), £12.50 (concs), £7 (schools), Family ticket £45
Booking: 020 3108 1000 | Bloomsbury Theatre.