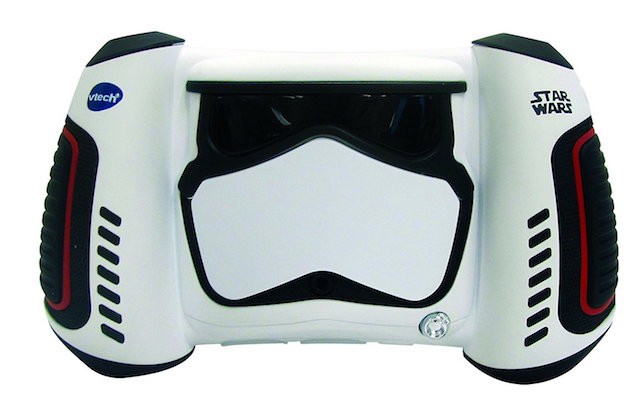 Star Wars™ Storm Trooper™ Digital Camera from VTech is perfect for young photographers – robust and easy to use.
Harriet enjoyed playing the three Games which are included.BB-8, Run! basic easy jumping game; Fighter Battle Shoot simple attackers but by far her favourite is First Order Escape as she enjoys rotating box to stay on path or otherwise be eliminated.
Voice Recorder – high pitch, low pitch, slow, echo, droid – also afforded lots of entertainment.
However it is the Camera with its photo and video capabilities which it the star attraction. If your child is a Star Wars fan, they can add boarders to their pix for extra fun. The camera functions like any other with zoom and a focus range of 1.5 feet. Video up to five minutes of footage and you can add a memory card for extra storage. However you can connect the Star Wars™ Storm Trooper™ Digital Camera to a PC or Mac via a micro USB cable.
We were impressed by the quality of the photos Harriet took at a wedding on Saturday – she could have given the official photographer a run for his money!
Totally recommend this camera. Harriet will get so much pleasure from what she records during the summer holidays and beyond. Makes an excellent gift and guaranteed to keep children happy and encourage creativity.
PWT rating: ♥♥♥♥♥
VTech 507403 Stormtrooper Digital Camera
is available from Amazon.