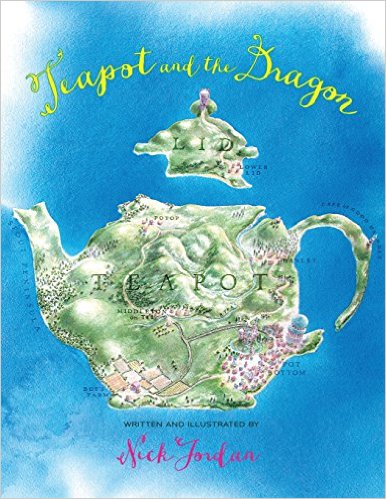 In Teapot and the Dragon, a very bored Princess Rosehip lives on an island called Teapot where Prince Spoon and Lord Lid are competing for her hand in marriage. However, Murmur, the court magician spies a dragon nesting on the island that enjoys princess and chips for his dinner. Bravely, Sir Teabag, the King's knight steps forward ready to slay the dragon.
So begins a fairytale for children of four to six-years-old, but you may notice the odd teatime theme to it all. The book cover shows a beautifully detailed and coloured map of the magical kingdom; a set of islands called Teapot, Lid, Cup and Saucer all set in a deep blue sea. And inside, every page of the story has superb pen and watercolour illustrations of the quirky adventure as the princess is captured by Lord Lid in a daft dragon costume and the real dragon turns out to only eat vegetables.
We read this story, in two parts, at bedtime to our six-year-old grandson and he really enjoyed it. He particularly liked the part where the female dragon is discovered asleep on her feet; it is explained that, if she slept lying down, she would crease her wings. Certainly, girls will enjoy this story as well.
This is an original, funny fairytale that will endure; well written and beautifully illustrated by Nick Jordan. It would make a much-appreciated Christmas or birthday gift and a book that children will treasure. It is also a high quality publication in terms of paper and printing.
PWT rating: ♥♥♥♥♥
Published by Clink Street Publishing, Teapot and the Dragon
by Nick Jordan is available from Amazon and bookshops.