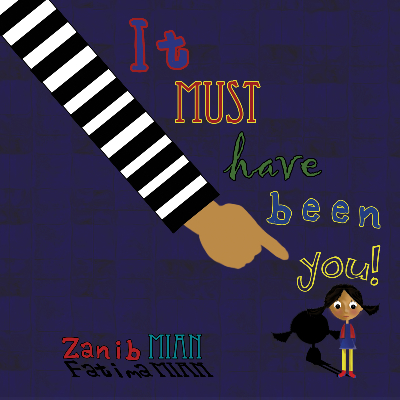 I love It Must Have Been You by Zanib Mian as does Harriet.
The fabulous cover sums up the concept brilliantly – the long arm, and the finger pointing at a very small girl with the title produced in different fonts and colours.
We all remember or know the scenario – something is broken, damaged, painted on or used up and there really can only be one culprit, not matter how hard he or she tries to deny it. No, "It must have been you!"
This beguiling story is written in rhyming couplets, and begins:
"There once was a child about the same age as you.
She was hungry and bored, there was nothing to do."
In It Must Have Been You the little girl commits a variety of misdemeanours and is told off by her sister, her mother, and her grandfather. So she tries to make amends with a predictably happy, feel-good ending.
The illustrations and text are a prefect match. At first I was worried that Harriet would find the text difficult to follow and read but my reservation was soon overcome. In fact, I think it encourages a greater appreciation of words and the way they are depicted in the young reader.
Another plus factor in my eyes is the use of non-caucasian characters, reflecting our multi-cultural society all the better.
Zanib Mian is the founder of Sweet Apple Publishers and I shall look forward to reviewing more of her books.
PWT rating: ♥♥♥♥♥
Published by Sweet Apple Publishers, It Must Have Been You
by Zanib Mian and illustrated by Fatima Mian is available from Amazon.