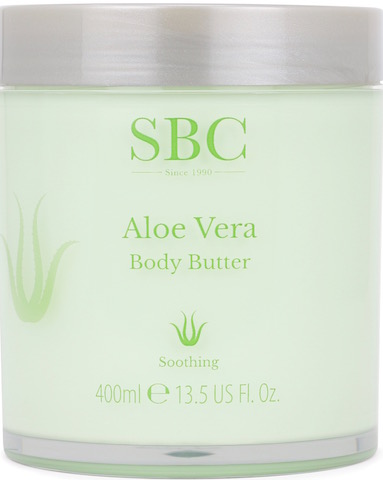 The holiday season – and a heatwave – is upon us. During the day sun protection is a must and after any exposure moisturising is essential. I have been using SBC Skincare's Aloe Vera Body Butter after an evening shower. You don't have to use much of the product so it is very cost-effective.
The whipped, creamy formula is absorbed into the skin instantly to replenish moisture.
Aloe Vera Body Butter is formulated to nourish your skin without feeling greasy or heavy, and I have enjoyed both my skin's softness and – although I don't usually go for scented products – the aloe, citrus and wild daffodils fragrance.
Aloe Vera and Cucumber soothe, hydrate and restore your skin. The nourishing blend of Shea Butter, Avocado Oil and Vitamin E deeply moisturise and lock in moisture by forming a protective layer that helps prevent moisture loss.
This vegan-friendly body butter is suitable for all skin types and is ideal for those with dry, chapped skin or after sun exposure.
All jars and plain taupe lids are recyclable. Wash first and no need to remove label and check your local recycling.
PWT rating: ♥♥♥♥♥
Available from SBC Skincare £23.50/400ml