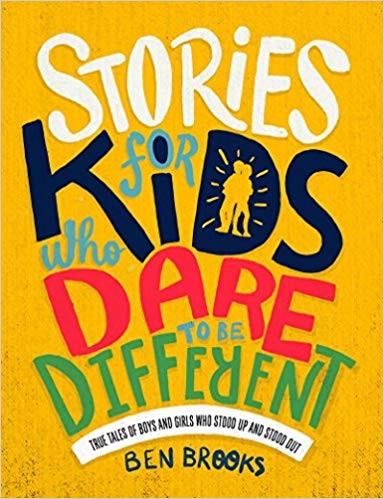 From the author/illustrator team who brought us the bestselling Stories for Boys Who Dare to be Different, comes Stories for Kids who Dare to be Different a much better starting point in my opinion. Ben Brooks has amalgamated over one hundred mini biographies about girls and boys, men and women who didn't allow themselves to fall into gender stereotypes or be defined by birth, class or ethnicity.
Lots of children aspire to be "famous" with little understanding of what that might mean. Not all this people are famous in the conventional sense but all have made contributions to life and society. These stories are inspirational. From Margarete Steiff (1847-1909) who ovecame her disabilities/paralysis to build up a business selling Steiff toys to Eric Underwood (born 1984) who is now a star of the Royal Ballet in London but whose early life as a young black boy in a dangerous suburb of Maryland would never have suggested such fame.
Each story is only a page long, a taster to whet young appetites. I would like so see links to where you can find out more but maybe that's a project for individual families to work on.
A book to get adults and children talking together about what people can do to realise their dreams.
PWT rating: ♥♥♥♥♥
Published by Quercus Books and illustrated by Quintin Winter Stories for Kids Who Dare to be Different
by Ben Brooks is currently on offer on Amazon.
Anne Coates is the author of
Dancers in the Wind - a gripping crime thriller (Hannah Weybridge)
Death's Silent Judgement (Hannah Weybridge)
Songs of Innocence (Hannah Weybridge)