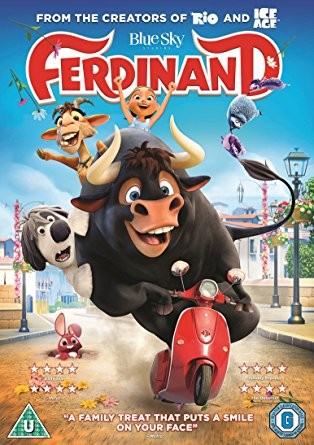 Based on a well-loved children's book, The Story of Ferdinand, written by the American team of Munro Leaf and Robert Lawson in 1936, this animation from Blue Sky is a delight.
Ferdinand is the story of a young bull who is different. Growing up in a facility which provides bulls to fight the great matadors in the bullring – or if they don't shape up they are sent to the abbatoir – Ferdinand is sensitive, loves flowers and hates fighting. The other young bulls make fun of him. When his father goes off to fight, Ferdinand is proud but fearful... Ferdinand escapes and is "adopted" by a father and daughter who grow flowers for the market. This idyl is interrupted when Ferdinand follows them into town for the fiesta and doesn't understand why everyone is scared of him...
Harriet was laughing out loud but also found it very sad and a little frightening. Some of the best and funniest scenes are at the Fiesta. Harriet didn't get the joke of a bull in a china shop but loved the tip-toeing routine.
The three stuck up horses and their dance routine had us both in hysterics as did the antics of the three hedgehogs and, of course, Lope the coaching goat.
Perfect family entertainment.
PWT rating: ♥♥♥♥♥
Ferdinand [DVD] [2017]
is available on Blu-Ray and DVD from Amazon, courtesy of Twentieth Century Fox Home Entertainment.
Director: Carlos Saldanha Cast: John Cena, Kate McKinnon, Anthony Anderson, Bobby Cannavale, Gina Rodriguez (voices); 106 mins.