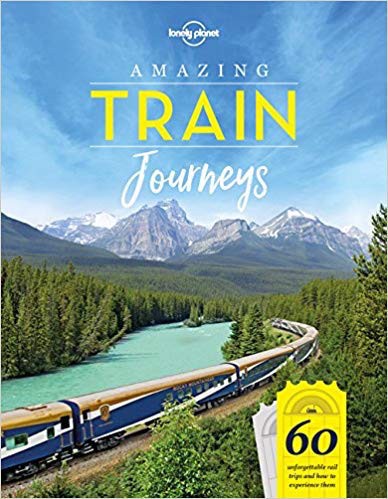 Reserve a seat and sit back for a voyage of discovery with Lonely Planet – Amazing Train Journeys. This is simply a beautiful book which will inspire and excite you.
Divided into five areas – Africa & the Middle East, The Americas, Asia, Europe and Oceania – these 60 spectacular train journeys will make you want to pack a case and book your holiday. From the Copper Canyon Railway in Mexico to the iconic Japanese bullet train, Hokkaidō Shinkansen, from the dramatic Belgrade-to-Bar Railway in Serbia and Montenegro to much nearer home (for UK readers) the Heart of Wales Line and Fort Willian to Mallaig by Jacobite, you will be transported to a world of adventure, amazing scenery and experiences to last a lifetime.
Each journey has a short introduction, a section on Riding the Rails which gives a description of the train and the highlights of the journey, plus Life on Board which covers seating arrangements and what is available en route followed by the Make It Happen information for booking and the best time to travel. There's also a comprehensive index.
The Lonely Planet – Amazing Train Journeys is worth dipping into for the spectacular photography and you'll find something to tempt you on every page from mountain peaks to lakes and oceans. Brilliant to escape into on a dull autumn/winter's day.
This book makes a perfect present although you might not want to keep it for yourself once you look inside.
PWT rating: ♥♥♥♥♥
Amazing Train Journeys (Lonely Planet)
is available from bookshops and Amazon.