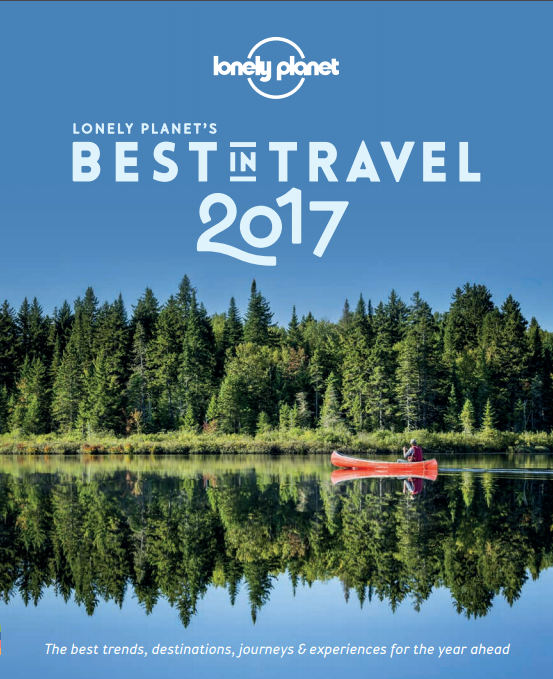 Billed as the best trends, destinations, journeys and experiences for the year ahead, Lonely Planet's Best in Travel 2017 provides an overview of the areas on the world that, while not necessarily remote, do rate as "roads less travelled".
Appealing to travellers rather than tourists, the book is divided into the Top 10 of the following: Countries, Regions and Cities, as well as covering the best of the rest and top five travel trends. This compact book acts as advance warning of where the world's hot spots will be next year, while they are still hot and not over exposed to package tours, lager and stag parties.
One major surprise to some may be the inclusion of North Wales as number 4 in the Top 10 Regions. When it's rated so highly, alongside areas in Peru and New Zealand, it's definitely worth seeing what the review has to say. And with the wealth of new adventurous activities available in North Wales, such as giant trampolines and a surfable inland lagoon with manmade waves, it seems appropriate that North Wales should appear in the same list as Taranaki, New Zealand (which comes in at number 2).
But if North Wales doesn't float your boat and you wish to explore further afield, the guide recommends Dominica, Oman and Mongolia as must-see countries next year and areas like The Azores in Portugal and The Tuamotus in French Polynesia as the places to visit before the rest of the world really catches on.
European cities that shouldn't cost and arm and a leg to get to, include Bordeaux and Ohrid in Macedonia, but if you're really want to push the boat out financially, Lonely Planet's Best in Travel also rates Seoul in South Korea and Cape Town in South Africa. After the fall in the value of the post-Brexit Sterling, at least the value of the South African Rand will make your trip feel more affordable.
While this book is not a guide in the truest sense, giving minimal amounts of information about each destination, it does act as a source of inspiration when you're whiling away cold winter evenings dreaming about summer holidays. And, as I'm going to North Wales for the first time to spend Christmas this year, I'm particularly delighted to discover I'll be ahead of the pack!
Lonely Planet's Best in Travel 2017 (Lonely Planet's the Best in Travel)
is available from Amazon and book shops.