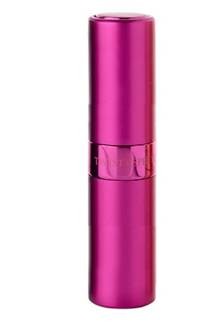 I was lucky enough to be given a large bottle of my favourite fragrance for my birthday but it does mean it's impractical to pop in my handbag. So I was keen to try out the Twist & Spritz.
The first problem I had was removing the inner bottle from the Twist & Spritz shell. I was almost ready to admit defeat when it eventually came apart.
Although the filling system is supposed to be "incredibly easy to fill from a wide range of bottles", I did make a mistake and "lost" some perfume mopped up by a sleeve so nothing wasted.
Once I got the hang of the pump it was easy to fill the atomiser by placing the valve over the exposed nozzle of my perfume bottle. Twist & Spritz bottles hold 8ml of fragrance, which equates to 100 sprays – perfect for holidays and to keep in your handbag for a quick refresher when at work or socialising.
A great handbag accessory.
PWT rating: ♥♥♥♥♥
Twist & Spritz comes in a wide range of colours and is available from The Fragrance Shop.