If you're visiting a first-time mum this Christmas, you're probably wondering what to give them and choosing the perfect present can be hard. Becoming a first time mum is both emotional and exhausting so gifting them with anything to make their life easier is ideal. 'Mums'-to-be' naturally prepare well for the big day especially with the nine month build up and advice from their midwives, family and friends urges them to buy the important components to starting a family. However, some of the smaller things may be forgotten, so with that in mind nursery retailer Kiddies Kingdom have put together a Mini Christmas Gift Guide to help you choose a thoughtful present any new mum would love to receive.
Miniland Warmy Travel Bottle Warmer-Aqua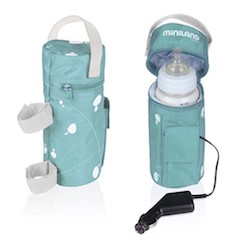 This is an amazing gift for any first timer who is constantly on-the-go. Plug it into an in-car charging point and it will begin heating any baby bottles, jars or pouches in just 40-45 minutes. Of course, safety comes first so this comes with waterproof casing and its own switch-off system to prevent any overheating. Warmy travel not only warms food up but it also keeps food cool on a hot day making it a perfect all year-round gift.
Safety first New-born Care Vanity Kit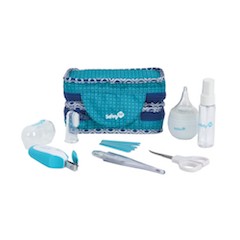 This handy set contains a whole range of useful items which any mum will need to keep the little-one looking well-groomed and healthy. Babies are renown for scratching themselves and developing gum pain when starting the teething process begins. This kit is a great essential to help any new mum along the way.
Moby Evolution Wrap-Black
Perfect for new-borns, this baby carrier will help mother and baby bond. Offering an easy-to-use, hands-free alternative evenly distributes the baby's weight across the back and hips, allowing Mum to be as comfy as possible. It's made from soft, breathable material and comes in lots of different prints, also one size so even Dad can't get away from the duties.

Hauck Cover Me Deluxe-Front Seat Organiser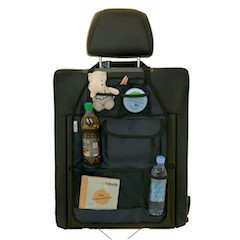 This unsung hero of the mothering world can work perfectly as a travelling gift. Hanging this on the front seat creates space for all the essentials a new mum will need when taking long car journeys. The different sections including a cupholder means everything will be readily at hand as well as significantly reducing the mess.
Clair De Lune four Piece Bale Bedding Set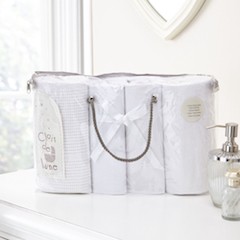 The four-piece Moses basket bedding set is full of all the essential sheets and blankets that new parents can never have enough of! This includes a cotton cellular blanket; fleece blanket; flannelette cotton flat sheet and a jersey cotton fitted sheet and all products are machine washable to look adorable on a new baby's bed.
All of the above are available from Kiddies Kingdom.