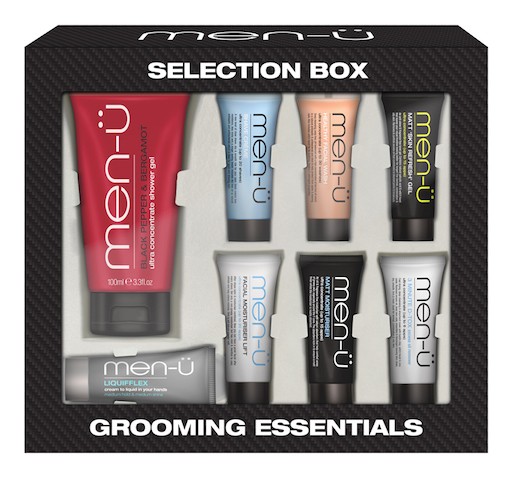 Male grooming brand men-ü is a revolutionary line of high performance, ultra-concentrate products which fit neatly in the hand and into a man's lifestyle, bathroom, sports or travel bag. The range is also complemented with Italian shaving brushes. They have various gift sets on offer for the man in your life this Christmas.
men-ü Selection Box Grooming Essentials (pictured above)
£24.95 (worth £38.40), men-u.co.uk
The Selection Box Grooming Essentials is the perfect combination of grooming products to introduce any man to the men-ü range. Includes the full shave / facial range, the refreshing and ultra-concentrate Black Pepper & Bergamot Shower Gel and the revolutionary styling product Liquifflex.
men-ü Shave Facial Trio
£29.95 (worth £38.85), men-u.co.uk
This combination shaves and exfoliates, deep cleanses, cools and moisturises. Have a great facial every time you shave, a poor shave means an uphill struggle thereafter!
men-ü Travel Kit
£34.95 (worth £48.80), men-u.co.uk
The Travel Kit is the perfect companion to keep well-groomed while on travelling. The Daily Refresh Shampoo gently cleanses and refreshes, adding moisture to the hair whilst the Citrus & Mint Shower Gel includes moisturisers to help the skin from drying and a fresh fragrance to give you a lift. The skin refresher set is the ultimate, ultra-concentrate toolkit for healthy skin. A good shave with men-ü Shave Crème is not just about a smooth surface without nicks or irritation but it is the start of healthy skin providing exfoliation a woman can only dream of! Deep cleanse, tone and refresh the skin thereafter! Finish the look with Liquifflex – great flexi-hold and suitable for all hair types and styles. Practically weightless and thickens the hair, so great for extra body and volume.
PWT rating: ♥♥♥♥♥