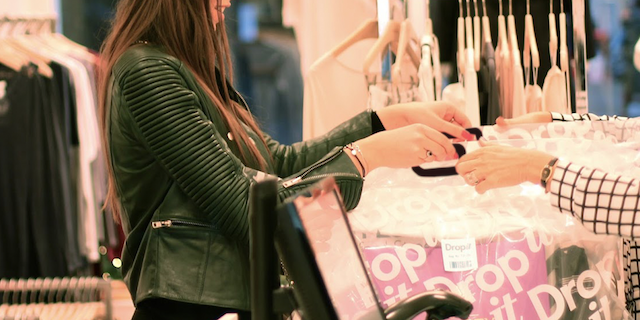 Dropit, the handsfree shopping™ service, is expanding in London and internationally as trends for convenience and customer experience drive innovation in physical retail. Dropit shoppers use a simple app to leave their bags behind as they shop, with all purchases gathered for a single delivery to their chosen address. The Dropit network includes hundreds of stores within London's prime West End shopping district and the service is expanding into mall environments, with successful rollouts at London Designer Outlet adjacent to Wembley Stadium in the UK and at Las Vegas North Premium Outlets in the USA.
While people still deplore the prevalence of shopping online, shopping in stores still remains far more popular. Physical retailers are maximising their unique advantages in experience and immediacy by adding the convenience of handsfree shopping in the shape of Dropit.
Dropit is growing rapidly and is now available at hundreds of stores representing more than 150 brands, including Adidas, M&S, Topshop and Topman, Fenwick, Nike, Coach, and Uniqlo. Shoppers use the Dropit app or in-store device to purchase a £10/$15 Pass that allows unlimited bag drops at partner stores and includes delivery to a home, hotel or workplace. Shoppers can even drop bags from stores that are not yet part of the Dropit network whenever they make a purchase in a partner store.
Using Dropit is easy and 100 per cent safe. Shoppers simply ask to use Dropit at the checkout, capturing photos of their receipts in the Dropit app while the store assistant seals their purchases into a secure Dropit bag. Shoppers are then free to continue their day without the burden and inconvenience of carrying bags, confident in the knowledge that their shopping is fully insured from store to door. A Dropit Pass allows shoppers to drop as many bags as they wish, with delivery at a time of their choosing.
Handsfree shopping gives shoppers the freedom to shop in ways that suit them. Dropit makes a full-day shopping trip more comfortable and enjoyable, enables that impromptu purchase between business meetings, and removes the worry about taking bags into restaurants, theatres or leisure venues that have bag restrictions. Dropit is especially beneficial to shoppers looking after children, or those with disabilities or impaired mobility.
I used the service for the second time recently. It was great. No more having to struggle on to tubes and buses with numerous bags. Plus it means if you want to go on to a restaurant, cinema or theatre you can do so.
Learn more about the Dropit app and watch an explanatory video.
PWT rating: ♥♥♥♥♥