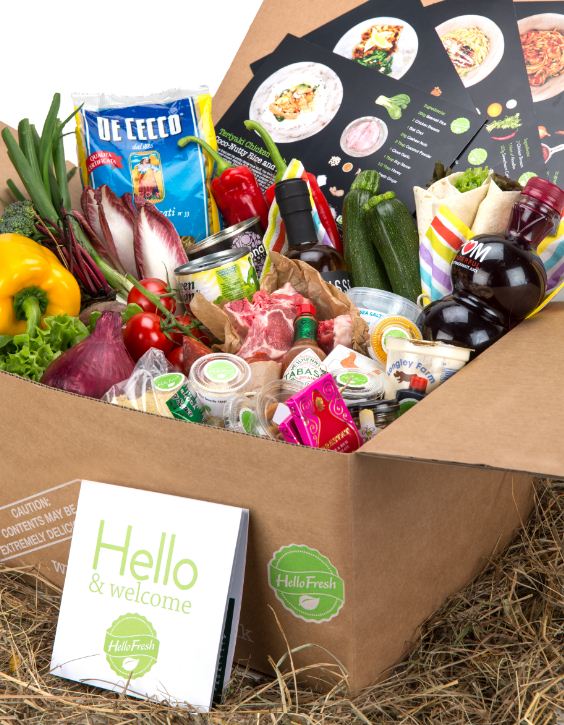 Hello Fresh boxes arrive direct to the door and are packed full of all of the freshest ingredients, perfectly portioned out, for four days' worth of dinners for families of four. Each dish is simple to prepare in around 30 minutes using a colourful recipe card. Recipe cards also include fun trivia on the ingredients and recipes, so that your children can lend a hand whilst learning about food and cooking. With no stressful shopping and quick to prepare recipes, you can put fun family time back into dinner time.

Each meal has been specially designed by Hello Fresh's Head Chef, Patrick Drake, to tackle the unenviable task which parents face of having to create nutritious dinners for fussy little eaters. All Patrick's dishes in the family box have received the sticky finger seal of approval. Our box included:
"Legendary" Tabasco Jambalaya
Rachel's Oven Backed Risotto
Top Secret Southern Style Chicken with Roasted Sweet Potato
Chorizo and Pine Nut Burgers
All of the ingredients are provided in the family box, many in individual little pots which appeal to younger chefs. The recipe cards are easy-to-follow but don't compromise on quality or taste.The family box caters for for a family of four and the first recipe I cooked was "Legendary" Tabasco Jambalaya for two male friends and myself. They both has second helpings and there was enough left over to freeze as a meal for two. The portions, for instance the chicken pieces, are generously sized. No one will feel hungry after these main courses.
Hello Fresh sources only the highest-quality ingredients: fish from the Queen's fishmonger, James Knight in Mayfair, meat from Tom Hixson at London's iconic Smithfield Meat Market and fruit and vegetables from esteemed greengrocer Covent Garden Supply at the New Covent Garden Market.
I was really impressed with the quality of the ingredients and great recipes. I think these would also be particularly useful if you are away on a UK holiday, self-catering as there is no waste and no having to buy spices etc in excess quantities. The box even includes some ecover washing-up liquid!
PWT rating: ♥♥♥♥♥

The Hello Fresh family box offers flexible, great value home cooking. For £64 per week, families of four can enjoy four night's worth of delicious, healthy home cooked meals – equating to just £4 per head per meal. This includes free UK wide delivery over a choice of delivery days. Orders must be placed online by midnight on Wednesdays for delivery the following week.