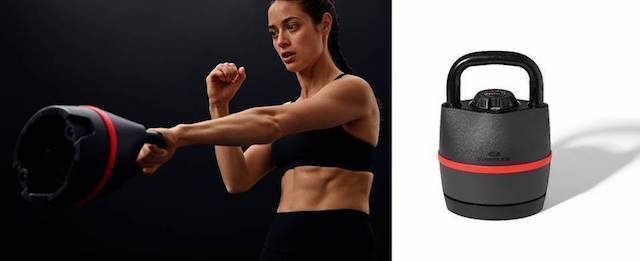 The Bowflex SelectTech 840 adjustable Kettlebell is a unique piece of gym equipment, which combines six different kettlebells in one. Perfect for all fitness levels, this one piece of kit can take you from beginner to expert with six incremental weights, ranging from 8 to 40lbs (3.5kg to 18kg).
When I first saw the instructions I had my usual "oh help that looks complicated" reaction but I need not have worried. Once you understand the way to use the selector dial to change between the weights, it's simple and quick. As someone who has lapsed on cardio exercise I went for the lowest weight – where most people should start. You soon find out if this is too little for you.
Like many people who spend their days working at a desk, I suffer from low back pain not helped by an injury some years ago. I have just started seeing an osteopath and when I mentioned the Kettlebell, I was surprised at how enthusiastic he was, saying it was the best exercise. He also warned me not to use it first thing in the morning but wait at least an hour and a half until my body had warmed up.
My osteopath would agree – Kettlebells are a great piece of all-round equipment as they combine cardio and strength in one effective workout. Using a Kettlebell is a perfect way to be able to perform both ballistics and grinds – fast, explosive movements and slow deliberate strides, respectively – with a single piece of equipment.
Using one you soon feel how effective they are! Oddly the website links on the instruction booklet are incorrect. It is better to go to the Bowflex YouTube channel where you'll find 24 trainer-led videos with foundational kettlebell techniques and workouts for both advanced and new users.
I would recommend watching each videos a couple of times so you know exactly what to do and to discover which routines suit you best.
PWT rating: ♥♥♥♥♥
The Bowflex SelectTech 840 adjustable Kettlebell costs £199 from Fitness Superstore.