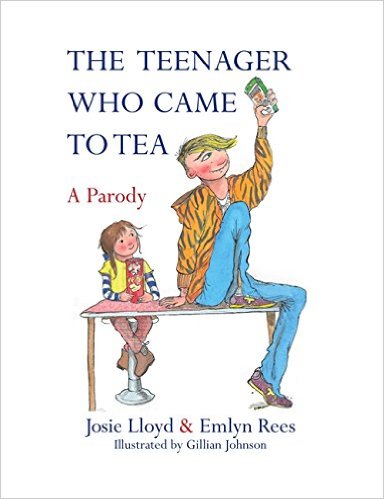 The Tiger Who Came To Tea has been a long-time favourite children's book but I must admit to a little "poetic license" when reading it, by transferring the "good idea" of going out for dinner from daddy to mummy.
So you can imagine my delight when opening The Teenager Who Came to Tea to discover that Sophie is just making tea with her stay-at-home father when the doorbell rings...
This is a very 21st century parody with references to Ocado deliveries, olive focaccio, quinoa and soya milk all of which is turned down by the hungry teen is favour of Pringles, diet coke, packet noodles and Nutella. Captures adolescence at its worst.
The Tiger of the original book is but a lamb compared to the selfie-taking, self-absorbed teen who creates mayhem and leaves chaos in his wake – a scenario familiar to most parents of adolescents.
Josie Lloyd and Emlyn Rees have worked their magic again. The Teenager Who Came to Tea is just as funny as their earlier parody: We're Going on a Bar Hunt.
The illustrations by Gillian Johnson – author/illustrator of The Lost Sock – perfectly complement the text.
A super stocking-filler and a great gift – maybe one to leave out for the teens to read.
PWT rating: ♥♥♥♥♥
Published by Constable, The Teenager Who Came to Tea
by Josie Lloyd and Emlyn Rees and illustrated by Gillian Johnson is available from bookshops and Amazon.