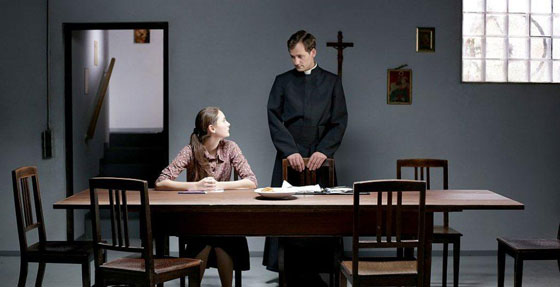 Stations of the Cross won the Berlin Silver Bear for Best Script this year and the EIFF Student Jury Prize. The film has at it's heart a story of religion, devotion and radical faith, and tells the story in only 14 fixed-angle long shots, allowing the viewer to contemplate the interactions on screen in an entirely different way. While the camera is static, the action is riveting.
Stations of the Cross from German director Dietrich Brüggemann makes compelling viewing. It takes the young protagonist, Maria, played so eloquently by Lea van Acken, through the 14 stages traditionally associated with Jesus Christ's journey from conviction to crucifixtion.
The film opens with a young priest (Michael Kamp) conducting the last confirmation lesson for a group of teens from a very strict conservative, Catholic church. His absolute conviction about fighting the devil chimes with Maria who is seeking a miracle to cure her mute four year old brother.
Maria has little control in her life which is dominated by her fierce and uncompromising mother (Franziska Weisz) whose heavy-handed obstinacy that she is right only makes matters worse. The only real control Maria has in her life is over what she eats and this leads inevitably to her anorexia and ultimate sacrifice. At her confirmation, Maria passes out. Although her mother takes her to the doctor, she is determined he will not intervene but he has Maria hospitalised...
Stations of the Cross is a powerful and intensely moving film that works on so many levels. It explores faith and its extremes, family relationships, adolescence and choices that may have to be made. The acting is superb.
PWT rating: ♥♥♥♥♥